'Thomas Gold has seen the LIGHT'
Las Vegas is all about fanfare – a place where it's always showtime and about celebrating the spectacular. There's an instant connection between Thomas Gold and Las Vegas. His nonstop "Thomas Gold Presents Fanfare World Tour" exudes the spirit of Vegas in its grand party vibe complete with amazing production, confetti, costumed performers, and on special occasions, a live drumline. Pair this with Thomas DJ sets which are laced with exclusive original productions and bootlegs and you have the formula for not just another party – but a massive celebration of music and life.
Thomas Gold brings the spirit of his "Fanfare World Tour" to Las Vegas for an exclusive residency at the brand new LIGHT nightclub at Mandalay Bay. Thomas' residency kicks of on Friday May 3 with advance tickets available for purchase here
Vegas has a special kind of energy, People come here from all over the world to have fun throughout the year. So whenever I go there to play, the crowd is different which always makes it a new challenge. Also the venues in Vegas invest heavily into designing the clubs and creating a unique vibe, which is amazing. And last but not least – it's Vegas! It's just a special place and I'm having fun every time I go. – Thomas Gold
LIGHT, the first-ever nightclub turned on by Cirque du Soleil, will merge cutting-edge creativity with incredible music to produce a new kind of nightlife experience. Designed as an experience to tantalize all five senses, LIGHT will offer far more than the traditional nightclub. Entering the realm of the unknown, each guest who experiences LIGHT will instantly become part of the interactive show. The chic, fashion-forward 38,000-square-foot venue features high-tech production and theatrics, as well as world-renowned DJs and performers who will turn on a new kind of passion and creativity, redefining a "night out."
I've seen the plans for LIGHT, I've been told about how it is going to be, and all I can say – it's going to be amazing!, It's a completely new experience – for both DJs and the audience. With everything being designed by the people from Cirque Du Soleil, it's going to be crazy. The dance floor is one of the biggest in Las Vegas – and every single person will be actually a part of the whole show…each night will be different – also from the effects, the performances – everything. Can't wait for my first date to play! – Thomas Gold
It's been an amazing run for Thomas Gold who in 2013 entered the DJ Mag top 100 for the first time, presented his debut BBC Radio 1 Essential Mix + 15 Minutes Of Fame with Pete Tong, released his newest original track "Miao" (Calvin Harris' Fly Eye Records) and remix of One Republic's "Feel Again" and continues his acclaimed "Thomas Gold Presents Fanfare World Tour" (including a sell out of New York's Roseland Ballroom). In addition to his new residency at LIGHT Thomas Gold has announced a run on North American spring dates including stops at EDC NY, New City Gas in Montreal, LIV in Miami and Ruby Sky in San Francisco. Check thomas-gold.com for the most updated schedule.
Don't forget to tune in to Thomas Gold's FANFARE radio show every Thursday & Saturday on Sirius XM, with the podcast edition available on iTunes for download. For the latest news from the man himself go to his new website www.thomas-gold.com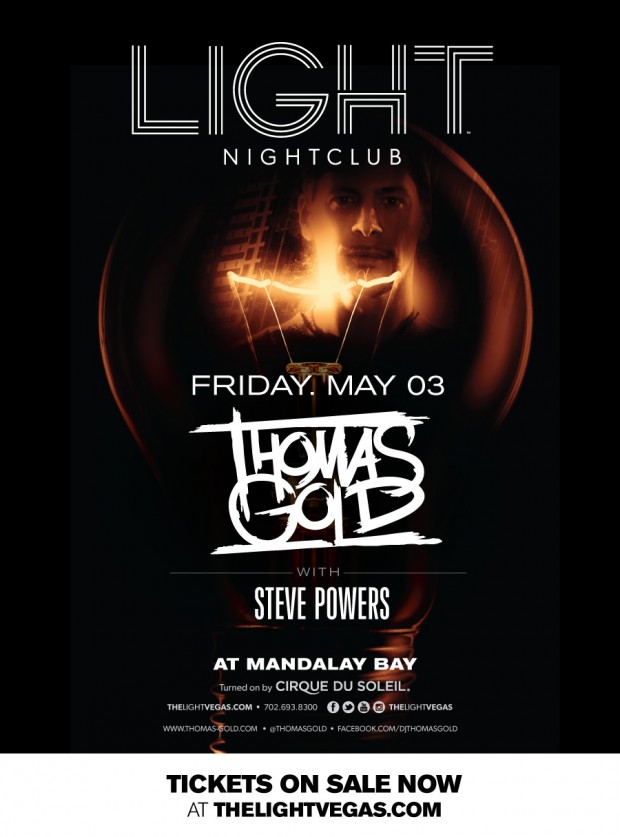 THOMAS GOLD NORTH AMERICAN SPRING TOUR DATES
May 3 – LIGHT @ Mandalay Bay – Las Vegas
May 4 – Beta – Denver, CO
May 9 – The Roxy – Providence, RI
May 10 – TBA – Atlanta, GA
May 11 – New City Gas – Montreal, PQ
May 14 – Bijou – Boston, MA
May 16 – LIV – Miami, FL
May 17 – Lizard Lounge – Dallas, TX
May 18 – EDC NY @ Citi Field – Flushing, NY
May 24 – Maya Beach Club – Scottsdale AZ
May 25 – Ruby Skye – San Francisco CA
June 1 – TBA – Washington, DC
More dates to be announced soon
http://www.thomas-gold.com
http://www.twitter.com/thomasgold
http://www.youtube.com/ThomasGoldofficial
http://www.soundcloud.com/thomas-gold
http://www.beatport.com/artist/fd/15276
source: press release