Mixify announces DJ Competition Finalists & Meltdown Digital Pre-Festival
Today, Mixify, Disco Donnie Presents, Full Access Dallas & Prototype Industries have announced the Top 10 Finalists who will now compete to win a coveted slot in the lineup at Dallas' longest running electronic music festival: The Meltdown Music Festival in Dallas, Texas on April 27th. Over 150 DJs entered the competition over the course of 6 days, and the Top 10 were selected based on who brought the most attendees to their live Mixify.com sets last week. The finalists are diverse in sound and global in scope, coming from Montreal, Barbados, Brooklyn, New Jersey, Boston, Brazil, Australia, Los Angeles and 2 native Texans. Each finalist has uploaded a mix for fans to judge, and ultimately, the fans will choose who ends up on the Meltdown line-up next to some major performing acts–an incredible exposure opportunity for any up & coming DJ. Voting runs until 4PM EDT on Friday, April 19th, and then the winner will be announced.
Link to Top 10 DJ Mixes & Voting:
http://blog.mixify.com/events-2/meltdown-music-festival-10-finalists-mix-voting
UPDATE: Disco Donnie Presents & Full Access Dallas are so impressed with the caliber of the competing talent that there will now be TWO (2) winners for the Meltdown DJ contest. Both winners will get to play live at the Meltdown Festival in Dallas and the official pre-festival on Mixify.com. 
Additionally, on Wednesday, April 24th, Mixify will host a digital pre-festival in anticipation of Meltdown Music Festival. Headliners from the festival will be live-streaming new mixes on the platform, including 12th Planet, Candyland, Carnage, Delta Heavy, Deniz Koyu, Gent & Jawns, Kill Paris, and MING. The winning DJ will also be on the line-up for the Pre-Festival, and during the event, fans will gain access to exclusive VIP ticket offers & social media giveaways for the physical festival in Dallas. The digital event will be hosted exclusively on Mixify.com, and will be presented in conjunction with Disco Donnie Presents, Full Access Dallas & Prototype Industries.
The complete line-up, set times & RSVP links are available here:
http://blog.mixify.com/events-2/wednesday-april-24-meltdown-music-digital-pre-festival-featuring-12th-planet-candyland-carnage-deniz-koyu-gent-jawns-kill-paris-ming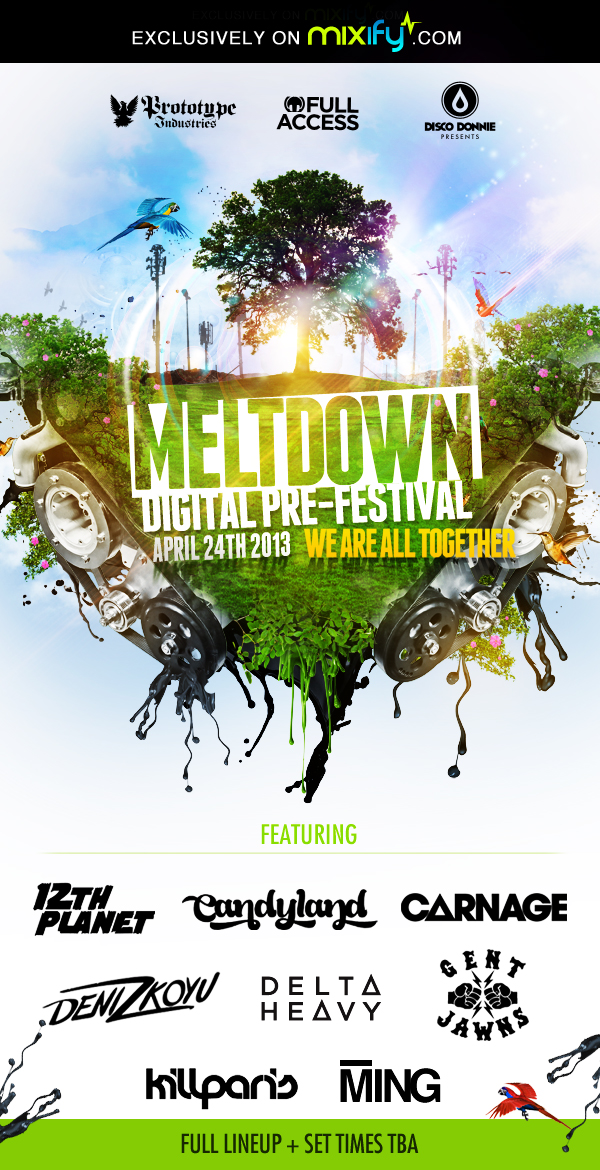 Meltdown Music Digital Pre-Festival, Wednesday, April 24th Exclusively on Mixify.com
DJ CONTEST WINNER (12 PM EDT) – RSVP Link, TBA