Out Now: M.I.K.E. – 'World Citizen' (Artist Album)
The tease of the string, the rush of the synth, the drama of the drop and the thunder of the bass… It can mean but one thing… trance-floor titan Mike Dierickx is back. For his first full-scale M.I.K.E. long-player since 2007's 'Moving On In Life' one of the genre's most respected sound crafters recalibrates and modifies his origin sound to new, futuristic levels. Featuring the club-floor smashes 'Elements of Nature' and 'We Are', it also contains new takes on many of his time-honoured anthems from the likes of Maor Levi, Roger Shah, Inpetto, Allure and others.
Your visa is stamped; your World Citizenry application approved – everything else you need to know is below!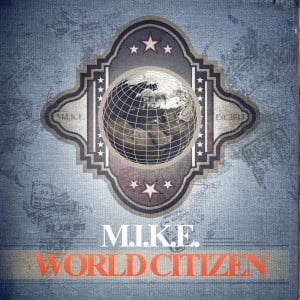 "Whip-quick drops, snare-free kick-backs, sun-kissed synths, freshly roasted riffs – its all here. Squinting, it's hard to see any difference in quality between 'Elements' and 'Silver Bath', 'Sunrise At Palamos', 'Strange World', et al. Prepare to pop a goosebump or 30 – this is blooming marvellous!" – Mixmag reviews 'Elements of Nature'.
The surge of his euphoric sound carved a path across floors throughout the early course of the last decade. Midway through he became the leading edge of the elec-trance breakout, cementing its clubland presence for years to come. Since his stateside relocation in 2010, the man they call Push has spent much of his time meticulously sound-designing the next M.I.K.E. strike… Spring 2013 sees it land.
"World Citizen is about building an auditory bridge from the past to the future", says Mike Dierickx. It's about giving fans, both new and longstanding, those inimitable M.I.K.E. sounds and elements, while bringing new directions and inspirations to the music. Due diligence has been done. A merge of the new and the classic is what's been asked, and with this album, it's what I'm delivering!"
M.I.K.E. 4, 5 & 6.0… With one keen eye for the future and one on his quintessential sound-style, 'World Citizen' charts its ballistic course skywards. Spanning the known M.I.K.E. universe and beyond, over its fit-to-bursting 23 tracks it delivers another wealth of floor essence. At its tougher end 'World Citizen's soundscape frays and distorts, with the bleeping mainline electronics of tracks like 'Any Direction' and 'Més Que Un Club' hotwiring the album's ignition. Quick on their heels comes 'No Escape' (co-produced alongside Aerofoil) which wildly oscillates the synths, inexorably cranks the sirens and let's the drums concussively kick, summoning maximum floor velocity.
Opening its lens wider, World Citizenship also offers calmer vistas. 'Galactic Halo', 'Thursdays' and the title track temper its bpm, shading the album in transposing chord & pad sequences and sun-splash melodics. Taking things a step further, 'Loverdose' all but swims with languid, esoteric notes and proggier sound structure.
"As a precursor for 'World Citizen', 'We Are!' is a very promising one – 8/10 – DJ Mag review of 'We Are!'
No M.I.K.E. album would be wrapped without a sizeable hit of his classic, much-copied/never-bettered known-for sound. Arterializing the album, tracks like 'Elements of Nature' (alongside Rank 1), 'Natural Source' 'Melodramma', Under The Bridge' and current single 'We Are!' once again demonstrate an absolute mastery over the big room. Curving, spellbinding melodies, haunting, echoed female harmonics, skilful drops and pulse-speeding synthesis raise the album's temperature tropic.
"I see 'World Citizen' as absolutely the right platform, not just launch new tracks, but also one to let remixers whose work I admire, revisit some years-gone-by highs."
Back To The Phuture… M.I.K.E. has tasked a detectably varied selection of producers with reboots of his most famous moments to date. Inpetto slide a rocking mid-Atlantic filter over 'Universal Nation', while Allure and Sonny Wharton pass 'The Legacy' and 'Till We Meet Again' respectively through house prisms. Toolroom's Paul Thomas gives 'Twixt' a sleek tweak, with knowingly SHM undercurrents and big room overtones. Roger Shah meanwhile sends the mod wheel high on Plastic Boy's evergreen 'Silver Bath'.
Make no mistake: 'World Citizen' fields trance at its most 'club'. Vocals need not apply… MIKE's latest goes straight for the peak of peak-time, with riffs and melodies that will be lodged in the mind for months to come and creating floor moments that'll last forever. This is the most trance trance album of the year… and its not even Spring!
(Forthcoming through High Contrast Recordings / Be Yourself Music, February 22nd 2013)
Tracklist:
01. M.I.K.E. – World Citizen (Album Mix)
02. M.I.K.E. Feat. Matteo Marini – Melodramma (Album Mix)
03. M.I.K.E. – We Are!
04. M.I.K.E. – Loverdose (Album Mix)
05. M.I.K.E. – Under The Bridge (Album Mix)
06. M.I.K.E. Feat. Revero – Overseas (Album Mix)
07. M.I.K.E. – Any Direction (Album Mix)
08. M.I.K.E. – Galactic Halo (Album Mix)
09. M.I.K.E. Vs Aerofoil – No Escape (Album Mix)
10. M.I.K.E. – Canvas (Album Mix)
11. M.I.K.E. – Thursdays (Album Mix)
12. M.I.K.E. – Natural Source (Album Mix)
13. M.I.K.E. – Touching Your Senses
14. Rank 1 vs M.I.K.E. – Elements Of Nature
15. Push – Universal Nation (Inpetto Remix)
16. Push – Universal Nation (Orjan Nilsen Remix)
17. Push – The Legacy (Allure Remix)
18. Push – Till We Meet Again (Sonny Wharton Remix)
19. M.I.K.E. Presents Plastic Boy – Twixt (Paul Thomas Remix)
20. M.I.K.E. Presents Plastic Boy – Silver Bath (Roger Shah Remix)
21. M.I.K.E. – Més Que Un Club (Maor Levi Mix)
22. M.I.K.E. – Any Direction (M.I.K.E. vs Revero Club Edit)
23. M.I.K.E. Feat. MichaelMyers – Come Together (Revero Remix)
Download this release:
http://www.beatport.com/release/world…
https://itunes.apple.com/us/album/wor…
http://www.audiojelly.com/releases/wo…
http://www.junodownload.com/products/…
http://www.dance-tunes.com/#home/albu…
http://www.deezer.com/album/6339861
http://www.trackitdown.net/track/m-i-…
http://www.djshop.de/Download-mike-wo…
http://www.djdownload.com/mp3-detail/…
http://digitalmusic.info/mp3_all.html…