Exclusive Interview with Ummet Ozcan @ ASOT 600 Den Bosch
Ummet Ozcan, originally from Turkish the descent but rooted in The Netherlands, is a DJ/Producer and Synth Sounds & Musical Software developer. After his first release 'Timewave Zero' there seems to be only one way for Ummet Ozcan… UP!
We were very pleased to speak with Ummet Ozcan at ASOT 600 Den Bosch. We had a really nice chat with him, and asked him about his set at the Expedition stage, productions, future plans and many more!
Enjoy! 

The Interview:
Ummet, you just played at the 'Turn the world into a dance floor' stage. How did it go?
Absolutely great! I'm very satisfied. The room was packed from start till end. A State of Trance is one of the best trance party's in the world. Very international, the visitors of this event come from all over the world.
Did you prepare anything special for tonight's set?
Off course, I did some mashups. Normally I play a lot of my own tracks, but I use a lot of mashups nowadays.  I only had 1 hour and 15 minutes. So, I tried to take the best parts of my favorite tunes. Every song has something good in it, but sometimes I don't like the break or the intro.
How did you prepare yourself for tonight's set? Are there any rituals you go through before you go on stage?
I always try to prepare my set. Some DJ's play what they think the audience want to hear on that certain moment. I like to do my own thing, and I know wich tracks I want to play in my sets.
How long did it take to prepare tonight's set?
If I create new mashups, it takes a few days. But I'm someone who does everything at the last moment. Sometimes even the last minute! For example the last track that I played tonight. I saw there were a few minutes left, and I thought "let's create something new". So I did a quick mashup, and it worked out very well!
Who/What inspired you to become a DJ/Producer?
Not just one thing, or one person. If you grow up in The Netherlands you have a lot of inspirations. Every other DJ inspires you. There are things I like about Armin's music, things I like about tiesto's music, Hardwell etc.
A lot of famous DJ's are from The Netherlands. Do you have any idea why?
That's a difficult question, other people asked me the same. But I still don't have an answer. I think it's because it all started in countries like The Netherlands, Germany and England. The first international DJ's came from The Netherlands, it all started with guys like Armin, Tiesto and Ferry Corsten.  It started and keeps going on and on.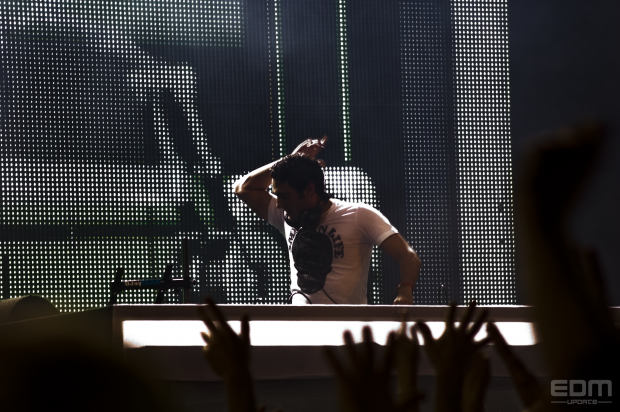 What inspires you during the production of a new track?
This can be everything. If I open my window,  and the weather is great.  It inspires me to create a nice melody for the summer. But it can also be a movie or another track.
With which other artist would you like to do a collab?
It would be great to do an collab with Sander van Doorn, or Hardwell. But I'm open to everyone, it would be great to work with someone nobody expects. A collaboration that will surprise everyone.
What's your favorite part of the production process?
It depends on the track. Sometimes I start working with a beat, or a bass line.  But it's also possible to start with a melody.  I don't really have a favorite part, every part of the production process has something special.
In your opinion as a producer, which other producer do you see blowing the charts with massive hits this year?
There are  lot of new talents. Guy's like Martin Garrix, Julian Jordan, Daniel Mebius. Very young, some of them are still have to go to school. But one by one very talented. And… all these guys are from The Netherlands.  Haha.
Where did you kick off your DJ career?
I started at the local pubs in my hometown Putten. Just for fun. But it was getting more and more serious when I started playing at Hemckade, Culemborg.  After the release of 'Timewave Zero' I got my first international gigs
Now you're fully booked till the end of this year, do you still have enough time for you friends and family?
Yes, most of the time I'm only  in the weekend away from home. Some DJ's are touring for more than 3 weeks. I prefer to play on Friday and Saturday, and fly back home on Sunday.  But there are tours of a week sometimes.
What do you see as the highlights of your music career?
The release of my first track 'Timewave Zero'.  I went to Trance Energy, and I thought: "It would be great if someone plays my track tonight".  So, we walked into the venue and the first track I heard that night… Timewave Zero! It was played 5 times that night, that was great.
The things that happened at the start of my career are the most important, but there still are a lot of highlight! 
Is there anything you really want to do once in your life?
Absolutely. It would be great to produce the soundtrack of a Hollywood film, or a game. Haha, that you are listening to a track by Ummet Ozcan while you're playing Fifa!
What's next for Ummet Ozcan?
I already finished 5 new releases, those will be released within a few months. And I'm fully booked till the end of this year.  I will be playing in Canada, India and North America.
Connect:
https://www.facebook.com/UmmetOzcanOfficial
http://twitter.com/UmmetOzcan
http://ummetozcan.com/
More…