Aruna Releasing Second Solo Single 'Save The Day' on October 8
Artist: Aruna
Track: 'Save The Day'
Release Date: October 8, 2012
Label: Black Hole Recordings
Aruna, the esteemed dance music songbird whose distinct vocals and honest lyrics have captured the hearts of fans around the world, will release her much-anticipated single 'Save The Day' October 8 on Black Hole Recordings.
"'Save The Day' has been a long time in the making and I'm really proud of how it turned out. It was truly a labor of love," Aruna says.
A poignant break-up song, 'Save The Day' tells the story of that moment you realize the magic has left a relationship and isn't coming back. Having gone through the experience herself, Aruna says that moment tends to be even sadder than the breakup itself.
"It's like the death of innocence or the loss of hope," she says. "One thing I like in particular with this song, though, is the contrast between the title and the actual lyrical content. It sounds so triumphant and heroic when you hear the title but when you actually start digging inside the lyrics, it's the complete opposite of that."
'Save The Day' follows Aruna's debut solo single, 'Let Go,' which was released on Anjunabeats in 2010. 'Let Go' cracked the iTunes Dance Top 200 singles chart at #150 and was the second most popular download from the album.
Touted by Above & Beyond's Tony McGuiness as "one of the most talented singer/songwriters around at the moment," Aruna's resume doesn't stop there. She's penned a chart-topping single recorded by Miley Cyrus for the multi-platinum selling #1 Billboard Hannah Montana soundtrack and recently added DJing to her arsenal of skills. Trance Around the World, the popular radio show produced weekly by Above & Beyond, showcased Aruna's talent for track selection and mashups when she hosted the guest mix on August 31.
"I was honored to be the first solo female asked to provide a guest mix for TATW," she says. "It's been a huge goal of mine ever since I started DJing."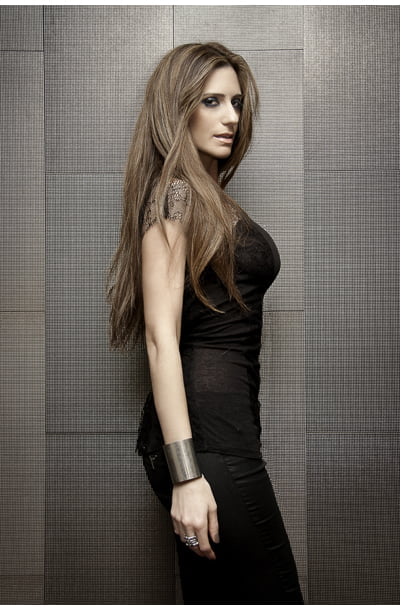 Aruna's DJing has since seen a staggering increase in demand as her bi-weekly podcast, The Hot List, rocketed to #14 on the iTunes music podcast chart after the TATW guest mix aired. On the show, she takes listeners on an hour-long journey through her personal favorites in progressive house and trance, often selecting her own mashups and forthcoming releases with an eye on quality vocal tracks aimed at pleasing a variety of tastes.
"Spinning on the live circuit has been a huge thrill as well," says Aruna. "I've already done a handful of international gigs, including a recent Insomniac event at Exchange LA with Myon & Shane 54 which broke the club's record for attendance!"
Along with being a classically trained pianist and a formerly sought after studio musician, it's safe to say that Aruna is now one of the industry's most exciting and successful leading ladies. After her 2007 collaboration on British trance legend The Thrillseekers' hit 'Waiting Here For You,' Aruna's unique vocal chops were immediately in high demand. Suddenly, she was recording for a host of internationally recognized producers, including Cosmic Gate, ATB, Myon & Shane 54, Filo & Peri, Ronski Speed and Roger Shah.
But Aruna's true breakout moment would come in May 2012 when her track 'Live Forever' with Dutch superstar Ferry Corsten shot to #2 on the UK Upfront Top 40 Club chart. Dubbed the "anthem of the summer" by fans around the world, 'Live Forever' stayed #1 on the Beatport Trance chart for nearly eight weeks straight with the official music video racking up almost half a million YouTube views–over 100,000 in the first two days alone. In September 2012, Aruna's joint project with Myon and Shane 54, Velvetine, clinched the #1 spot on the Beatport Trance chart with their latest release, 'The Great Divide', just four days after its release.
Not content to be pigeonholed into one specific genre however, Aruna has been honing her pop music writing skills–on her own tracks and for other recording artists as well. She'll soon step foot in the studio to begin producing her next artist album and will continue to perform around the world. The future is golden for this Los Angeles-based quadruple threat, as Aruna continues to break barriers through her unparalleled, multi-faceted approach to singing, writing, producing, and DJing.
'Save The Day' will be released on Black Hole Recordings on October 8, 2012. 
Connect:
Facebook: facebook.com/arunamusic
Twitter: twitter.com/arunathesinger
Mixcloud: mixcloud.com/arunamusic
YouTube: youtube.com/user/ArunaMusic
For more information on Aruna or to request an interview, please contact Erin Osovets at erin@theory-x.com.
For information on booking Aruna, contact Alison Gareh at alison@mixxitup.com.