The Squatters present… SESSIONS.
Ever needed a good old session? One that leads to you losing yourself on the dance floor, busting moves you didn't know you were capable of and leaving a club thinking… wow, just wow? We've got just the ticket.
The Squatters, two North Yorkshire legends that have carved their way through the music business with their unique bass heavy sound and unforgettable parties are winging their way to Leeds! And they're not alone for the day trip, bringing with them their close friend Kissy Sell Out for the opening night. Kissy dependably supported The Squatters music on BBC Radio 1 like a wide strap bra and will serve up the added zing like a dollop of Mint Source shower gel on your unmentionables.
This very special opening night deserves an extra bit of bonus, and who better to fit that bill that the mighty Steve Edwards. The Squatters and Steve Edwards, of "Bob Sinclar 'World Hold On'" fame, have recently teamed up to produce the smash hit 'Back To The Stars' which will be performed LIVE for you at Sessions, a never before seen PA. NOT TO BE MISSED!!
Add to the mix a bit of Alex Simmons, Nick Ostertag, Mr Dirty Smart and room two hosted by Knee Deep, you've got one big ass session to attend.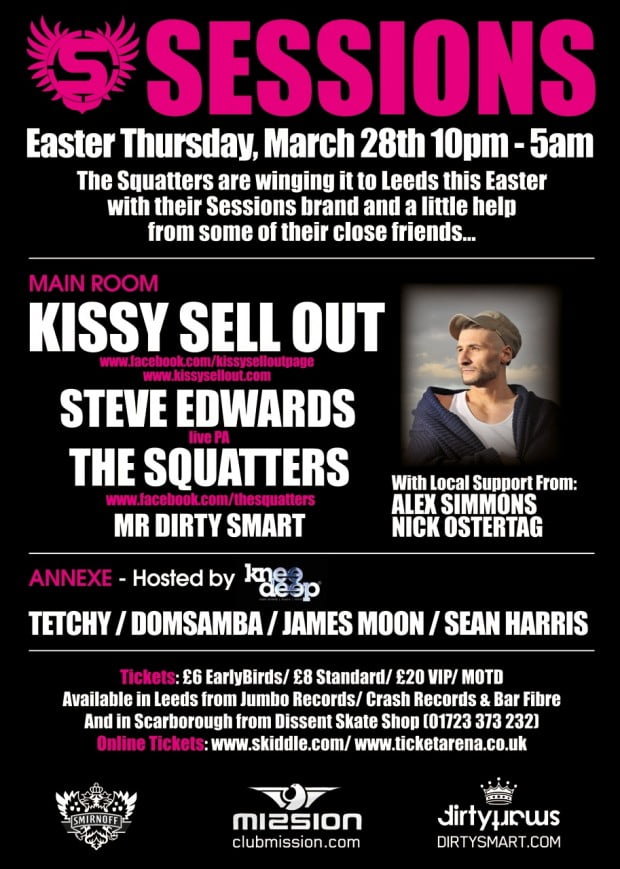 March 28th – 10pm – Be there.
The Squatters present… SESSIONS
Easter Thurs, March 28th @ Mission 10pm – 5am
Main Room:
KISSY SELL OUT – www.kissysellout.com
STEVE EDWARDS Live P.A
THE SQUATTERS – www.the-squatters.com
Mr. Dirty Smart
Alex Simmons
Nick Ostertag
Annexe – Hosted by Knee Deep
Tetchy
DomSamba
James Moon
Sean Harris
Tickets:

£6 Limited Earlybirds
£8 Standard
£20 VIP
MOTD
Available from Jumbo/Crash/Bar Fibre/ Dissent Skating Scarborough
Online from Skiddle and ticketarena


Exclusive Offer at The Marriot for Fibre/Mission customers over Easter weekend from Thursday 28th-Sunday 31st March: £69.00 Room Only! 
http://www.marriott.co.uk/hotels/travel/LBADT?corporateCode=X09&app=resvlink&fromDate&toDate&stop_mobi=yes


Sponsors 
:
Smirnoff
Dirty Smart – www.dirtysmart.com
For more details:
www.clubmission.com
www.kissysellout.com
www.facebook.com/kissyselloutpage
www.soundcloud.com/kissysellout
www.officialsteveedwards.com
www.twitter.com/UKSTEVEEDWARDS
www.the-squatters.com
www.twitter.com/THE_SQUATTERS
www.facebook.com/thesquatters
www.soundcloud.com/thesquatters
www.youtube.com/user/SQTRZ