Spinnin' Records announces their first ever Miami Music Week showcase!
Spinnin' Records – one of the world's biggest dance labels – is pleased to announce that their first ever Miami Music Week label showcase, "Spinnin' Sessions," will take place at Nikki Beach on Wednesday, March 20. While the event will feature many of the well-known international superstars who call Spinnin' Records home we like a good mystery and will keep under tight wraps three huge mystery guests…but just span the Spinnin' catalogue and think of the possibilities!
With a combination of working with the right artists at the right time coupled with the right promotion and online strategies Spinnin' Records has emerged as one of the biggest dance music brands in the world and the number one label in terms of social media support as to clubmusic awareness on Beatport, Itunes and streaming. Through its history the label has released countless international hits including Sander van Doorn – "Nothing Inside," Sander van Doorn & Robbie Williams – "Close My Eyes," Nicky Romero – "Toulouse," Afrojack & Shermanology – "Can't Stop Me," Afrojack ft. Eva Simons – "Take Over Control," Starkillers & Nadia Ali – "Pressure (Alesso Remix)," 4 Strings – "Take Me Away," among others.
Besides being the Dance label with the biggest online following, Spinnin' Records is also responsible for discovering and providing a launching pad for some of the brightest stars in dance music including Sander van Doorn, Afrojack, Nicky Romero, Sidney Samson and Bingo Players, to name a few. Speaking of Bingo Players, their new single "Get Up (Rattle)" has been the number one single in the UK and South Africa.
Adding to Spinnin's global reach, the label recently came to terms with Republic Records on a partnership in the United States for the US release of "Get Up (Rattle)". "We are thrilled to embark on a strategic alliance with Spinnin Records for the US marketplace," said Republic Records President and CEO Monte Lipman. "With over 1 billion views on their video channel, it's no wonder that Eelko van Kooten's legendary company has been on the forefront of pop culture for many years. We look forward to making a contribution towards their legacy."
Eelko van Kooten, CEO Spinnin' Records says: We are delighted to work with Monte Lipman's team at Republic and continue the success in the USA. I'm looking forward to see everyone Miami!
Stay tuned in the coming weeks for more information on the event including more line up reveals!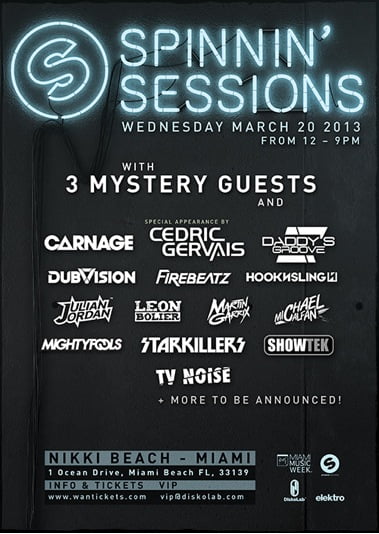 Spinnin' Sessions
Wednesday, Mar 20, 2013
12:00 PM – 9:00 PM
Nikki Beach
One Ocean Drive, Miami Beach, FL
http://www.spinninrecords.com
http://bit.ly/SpinninSpotify
http://www.twitter.com/spinninrecords
http://www.youtube.com/spinninrecords
Buy Tickets to Spinnin' Sessions here:
http://bit.ly/SPINSESSIONSMIAMI