RUSKO to release KAPOW on November 4… for FREE!
RUSKO – one of dance music's most outspoken artists – announces today that he will release all his original music going forward for free. Beginning with the November 4 release of his "KAPOW" EP all new RUSKO music will be available for free download through Ruskoonfire.com/kapow. "KAPOW" will also be available via iTunes on November 6
"KAPOW" is a four-track workout that blends dubstep, rave anthems and Hip-Hop with an energy that only RUSKO delivers. "Yeah," is the ultimate jump up rave/dubstep anthem blending jagged basslines with a signature rave vocal. It's available for free download now on Rollingstone.com. "Booyakasha" is car chase dubstep; perfect for a showdown in the hood. "Bring It Back" blends twisted dubstep basslines with old school piano licks and a touch of soul, while "Like This" blends Hip-Hop with chunky break beats.
The natural thing for me to do is release "KAPOW" myself. How I want. The way I want and at the speed I want. It's about promotion and not profit – I want to give the fans the music in real time. If they can help me promote it too then it's essentially what a label does anyway but just without copyright restrictions. The fans are key in the success of "KAPOW." If you like it, send it to a friend. I just want everyone to be able have my music if they want it, – RUSKO
RUSKO is supporting "KAPOW" with a fall North American tour that launches on October 26 in Chicago, Illinois and runs through the end of November.
KAPOW EP Tracklisting
"Yeah"
"Booyakasha"
"Bring It Back"
"Like This"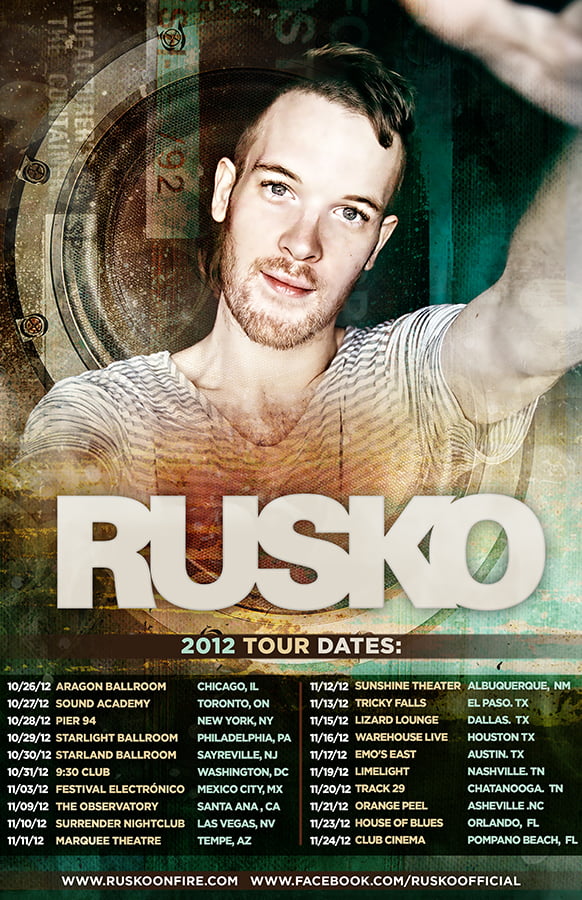 10/26 – Chicago, IL – Aragon
10/27 – Toronto, ON – Sound Academy
10/28 – New York, NY – Pier 94
10/29 – Philadelphia, PA – Starlite Ballroom
10/30 – Sayreville, NJ – Starland Ballroom
10/31 – Washington, DC – 9:30 Club
11/9 – Santa Ana, CA – Observatory
11/10 – Las Vegas, NV – Surrender
11/11 – Tempe, AZ – Marquee
11/12 – Albuquerque, NM – Sunshine Theater
11/13 – El Paso, TX – Tricky Falls
11/15 – Dallas, TX – Lizard Lounge
11/16 – Houston, TX – Warehouse Live
11/17 – Austin, TX – Emo's East
11/19 – Nashville, TN – Limelight
11/20 – Chattanooga, TN – Track 29
11/21 – Asheville, NC – Orange Peel
11/23 – Orlando, FL – House Of Blues
11/24 – Pompano Beach, FL – Club Cinema
OFFICIAL WEBSITE: http://ruskoonfire.com/
TWITTER: http://twitter.com/#!/ruskoofficial
SOUNDCLOUD: http://bit.ly/RuskoSoundCloud
YOUTUBE: http://bit.ly/RuskoYouTube
RUSKO on iTunes: http://bit.ly/RuskoItunes
Download "Yeah" from Rollingstone.com
Download "Like This" from Jay Z's Life + Times