Out Soon: Hadouken! – "Every Weekend" (Artist Album)
Not many bands can release a viral video that attracts nearly 30 million views and produces 50,000 single sales before the single is even officially released but then again, most other bands are not as original or as forward thinking as Hadouken!
As ever, Hadouken! have broken all the rules and now march forwards with the release of their third album Every Weekend on their own imprint Surface Noise Recordings.
Hadouken! occupy a completely unique spot in modern British music. They're at the very forefront of UK Bass, the most exciting and dominant sound of the era, but they're also a hair-raising live act that can get a hall packed with teenagers moshing and raving – often at the same time. They're the sound of every high street on a Saturday night, of every provincial rave, of a lunchtime Radio 1 tent at Reading Festival so full that the throng stretches out into the field, forcing elderly passers by to ask "who is that group?!" But the kids know alright.
Every Weekend is the bands most accomplished and convincing musical statement yet. Recorded in various locations, it features production contributions from the most cutting edge and successful names in modern Bass music, including Noisia, Loadstar, Aeph, Blokhead and Drumsound & Bassline Smith.
The album is accompanied by the new single 'Levitate', released on March 11 and produced by Ram Records act Loadstar. 'Levitate' is featured in their 'People Are Awesome 2013' viral video that has so far been watched by nearly 30 million people around the world. As a result, the track entered dance charts in countries Hadouken! have never even played before and 50,000 singles have been bought in the last two weeks. 'Levitate' is accompanied with remixes by Swindle, Alex Light, and Koven. The perfect package to get you in the mood for a club session.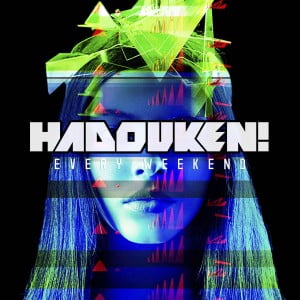 Mini Mix:

Every Weekend Tracklisting:
1. Vortex – Blokhead (Hospital Records)
2. Levitate – Loadstar (Ram Records) & Noisia
3. Bliss Out – Noisia
4. As One – Loadstar
5. Parasite – Loadstar
6. Bad Signal – Aeph
7. Stop Time – Stop Time
8. Spill Your Guts – Aeph
9. Comedown – Loadstar
10. Daylight – Drumsound & Bassline Smith
Bonus tracks (Physical and I-Tunes exclusive only):
11. Mecha Love – Loadstar
12. Oxygen – Loadstar