Moonbeam – 'The Random' (Artist Album)
Early 2013 will see Moonbeam – Russia's most prolific EDM duo – surmount their greatest career challenge to date. 'The Random' represents not only the group's fourth extraordinary artist album, but also their first original film score. Soundtracking the directorial debut of the Moonbeam's Pavel Khaleev, it brings together 12 enigmatic original tracks alongside 10 floor-flaming club renditions. Featuring Moonbeam's unique vocal ensemble, on board are the singer-songwriter talents of Avis Vox, Leusin, Aelyn, Blackfeel Wite, Matvey Emerson and others. An authentic 'first' for a trance act, both audibly and visually you've never experienced anything quite like 'The Random'.
"With its exacting production, stunning FX, moody, beautiful songs, dreamscape synthery and add-in movie appeal, 'The Random' has the makings of a game-changer for Moonbeam" – 10/10 – Album of the Month, Mixmag – Feb 2013
Among the first acts to graduate internationally from Russia's thriving EDM scene, over the course of the last decade Pavel and Vitaly Khaleev have passed numerous musical landmarks together. Most recently they completed their 200th studio production, whilst their latest single ('You Win Me') scored the 500th release milestone on the award-winning Black Hole Recordings label. With the release of 'The Random' though they realize of one of their greatest collective aspirations… their first film score.
Vitaly Khaleev says: "over our last two albums ('Around The World' and 'The Secret') both Pavel and I consciously and subconsciously have included cinematic influences in our music. Scoring a film is something many producers dream of doing, but few get the chance. When Pavel got the go ahead for his film, we both knew that this is an opportunity for Moonbeam too good to miss."
Two halves to form a whole… A 2XCD release 'The Random' opens with its film score versions. Across twelve tracks of cryptic lyrics, ethereal tones and spellbinding vocals, they amplify and electrify the movie's otherworldly central theme. Mounted on skipping breakbeats Polish singer Jacob A adds a soulful, searching lean to 'Only You', while on the beatless magnificence of 'Madness', Avis Vox delivers a bewitching mix of Russian verse and English chorus.
Following what DJ Mag called her "incredible, intoxicating" turn on last year's 'Daydream', Muscovite singer-songwriter Leusin delivers again with 'Flight'. Backed by folk-ish guitar strums and slow rolling pianos & drums, the track burns up the atmosphere. On 'Alive' atmosphere skirts closer to atmosfear, as ominous strings, frayed sub-riffs and darker minded FX cast their spell. Offsetting them are the elevating melodies of 'You Win Me' and glacial chimes of the aptly titled 'Dark to Light', which equalise the mood. Collectively 'Little Monster', 'The Fatal Thread' and 'Sun Went Down' transits the OST into its closing stage, perfectly capturing the film's metaphorical, sci-fi-come-supernatural storyline.
"Many artists – trance and otherwise – cite their music as being filmic, movielike or cinematically styled. With 'The Random', Moonbeam take that to the literal level." – Mixmag
"Our absolute endgame with this album was duality", says Pavel. "A long-player that is every bit as capable of developing atmosphere in a cinema as it is delivering big room moments in a club. Nothing else will do."
Here come the drums…From the first neuron homing synth line and distorted growl of disc 2's opening track 'Awaking', be in no doubt that 'The Random' has shifted its aim. Heading floor-bound at speed, the postmodern house synths of 'The Raven', the New Order-ish keys (& riveting Blackfeel Wite sung vocals) of 'Together' and the dark sonic matter of 'Heavy Rain' relocate the release to the heart of the dancefloor. With its runtime regularly interleaved with Moonbeam's trademark moving harmonic melodies, the Club Mixes symbiotically fuse with the original versions to create a 360° experience.
With 'The Random' Pavel and Vitaly have imagined their own little audio-visual universe – a visionary, surefooted journey that makes for a frontier pushing release. It opens in clubs (and cinemas) in Spring 2013.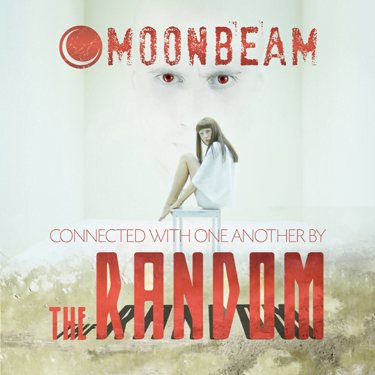 Tracklist:
CD01 (Original Motion Picture Soundtrack)
01 Only You (feat. Jacob A)
02 Madness (feat. Avis Vox)
03 Alive (with Matvey Emerson)
04 Flight (feat. Leusin)
05 Together (feat. Blackfeel Wite)
06 You Win Me (feat. Aelyn)
07 Echoes Dying Away
08 Tell Me (feat. Jacob A)
09 Dark to Light (feat Nathassia D & Pryce Oliver)
10 Little Monster (with Andrea Roma)
11 The Fatal Thread (with A*S*Y*S)
12 Sun Went Down (feat. ARCHNGL)
CD02 (Club Versions)
01 Awaking
02 Alive (with Matvey Emerson) (Club Mix)
03 Flight (feat. Leusin) (Club Mix)
04 The Raven
05 Only You (feat. Jacob A) (Club Mix)
06 Little Monster (with Andrea Roma) (Club Mix)
07 Together (feat. Blackfeel Wite) (Club Mix)
08 Heavy Rain (with J-Soul)
09 The Fatal Thread (with A*S*Y*S) (Club Mix)
10 You Win Me (feat. Aelyn) (Club Mix)
[button color="blue" link="https://itunes.apple.com/us/album/the-random-bonus-track/id594444513″]iTunes Pre-Order[/button]
(Forthcoming through Moonbeam Digital / Black Hole Recordings, Feb 22nd 2013)