Mixify.com announces official lineup for "RISE Digital Music Festival"
On February 12th-14th, Mixify.com–a live audio streaming and digital events platform for DJs and electronic dance music fans worldwide–will hold its largest event to date, featuring three gratuitous days of live DJ sets from around the world, entitled "RISE Digital Music Festival."
Headliners for the festival include high-energy bass demigods Knife Party, Dutch sensation R3HAB (2012 IDMA Best Breakthrough Artist), and prolific trance superstars Tritonal.
"I'm honored to join RISE Digital Music Festival on Mixify.com," says R3HAB, "It's very important to me to support and explore new technologies in order to keep close contact with my fans. I'm looking forward for this interactive experience and I'll promise to spin some exclusive music."
The lineup features a collection of rising stars, like Russian phenom Arty, the internationally acclaimed Deniz Koyu, versatile fan favorite Carnage, Swedish talent Adrian Lux, and Billboard's 'One To Watch' Danny Avila. They will be performing alongside Rob Garza of pioneering electronic group Thievery Corporation, BBC Radio 1's own DJ Nihal, and crossover dance-pop producers The Cataracs.
Mixify is also holding a contest to showcase an emerging DJ already using the platform with a coveted slot in the lineup.
The digital festival, which is free to attend, provides EDM fans of all ages access to almost 30 hours of top-tier DJ sets. While they party, fans can chat with the DJ and other listeners from around the world, and enjoy the DJ's own festival visuals.
RISE Digital Music Festival is presented by leading players in the EDM space, including event promoters, record labels, and media partners: Disco Donnie Presents, Big Beat Records (a subsidiary of Atlantic Records), and BroBible.com (a popular college media outlet). The line-up was sourced from some of the top DJ management companies, including Red Light Management, Montana ECI, Undocumented Management, JHO Management, Empire Artist Management, and Creative Primates, just to name a few.
Donnie Estopinal, CEO of Disco Donnie Presents, says: "We liked the idea of developing a digital music festival with Mixify, because it offers us a way to identify new fans and connect with them in between events. The goal is to create new experiences for the fans and develop their connection with our artists."
"At Mixify, our goal is to create an authentic environment for our DJs, fans, and presenting partners – from the highest quality audio to the customizable, eye-popping visuals that give you a real festival feel," says David Moricca, Founder & CEO of Mixify, "The Concept of the RISE Festival is the essence of who we are: a never-ending electronic music festival, where fans and DJs from all over the world can effectively party and connect from anywhere, anytime."
RISE Digital Music Festival will be hosted exclusively on www.mixify.com, to RSVP, visit www.mixify.com/RISE
For any press related inquiries, contact Alyson Roy of AMP3 Public Relations at 646-827-9594, or Alyson@AMP3pr.com. For more information, visit www.mixify.com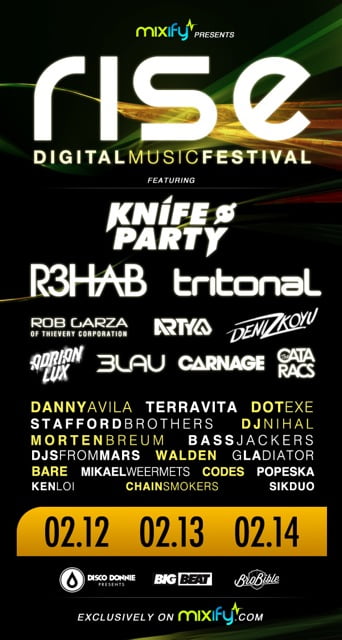 RISE Digital Music Festival – Official Lineup:
Knife Party
R3HAB
Tritonal
Rob Garza (of Thievery Corporation)
Arty
Deniz Koyu
Adrian Lux
3LAU
Carnage
The Cataracs
Danny Avila
Terravita
DotEXE
Stafford Brothers
DJ Nihal
Morten Breum
Bassjackers
DJs From Mars
Walden
gLAdiator
BARE
Mikael Weermets
Codes
Popeska
Ken Loi
Chainsmokers
Sikduo
Check the full list of all the DJs and their respective set times:
http://blog.mixify.com/features/knife-party-r3hab-tritonal-to-headline-rise-digital-music-festival-full-lineup-set-times-rsvp-links