Laidback Luke launches exclusive new "REVOLT" event series!
Renowned DJ and Producer Laidback Luke kicks off his REVOLT party series exclusive to Hakkasan Las Vegas at MGM Grand Hotel & Casino this Sunday, April 28. He will also extend his talents to the daytime at the MGM Grand's iconic WET REPUBLIC Ultra Pool in May.
REVOLT – stand up against complacency and take back your clubbing experience. Remove yourself from all physical realities and join Laidback Luke on a journey through time and space and experience the world as it could become, depleted of resources but with a united community bound through experience and music. Known for his 'Laidback' and cheerful persona, Luke will introduce his darker side through this series of exclusive events in which the party experience will evolve throughout the night as the energy progresses. It's music that matters above all in this new world and Laidback Luke is leading the REVOLT.
Laidback Luke devotees will also get a chance to see him poolside during his daytime events at WET REPUBLIC, where he will be bringing his renowned musical talent, slated to continue to revolutionize the Vegas pool party scene
Hakkasan Las Vegas is going to be an experience beyond anyone's imagination, What I'm doing at Hakkasan will be completely different from anything my fans have seen or heard from me and I'm very excited to be able to celebrate and share this Hakkasan specific series of events with my fans. Revolt is a new time ready to happen – Laidback Luke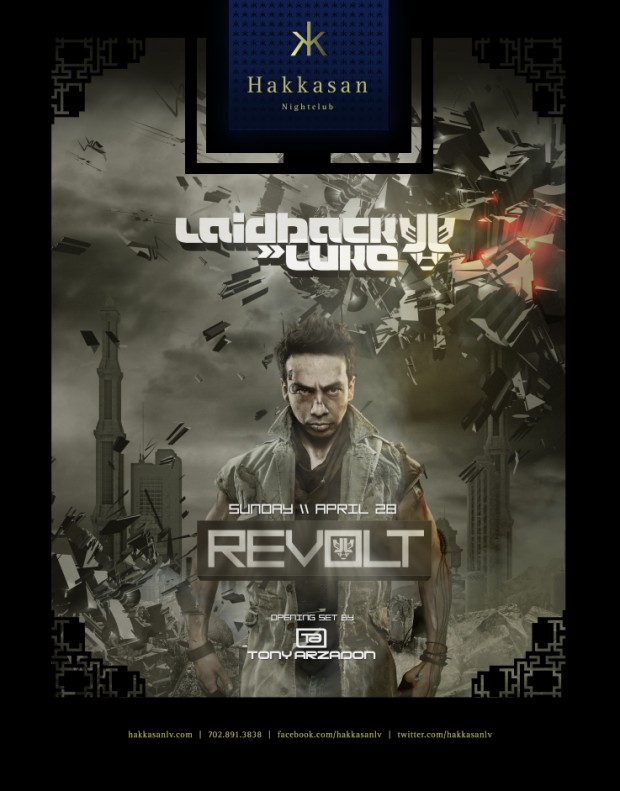 For more information on Laidback Luke, please visit:
https://www.facebook.com/OfficialLaidbackluke
http://www.laidbackluke.com/