John Dahlbäck launches his North American tour this weekend and readies new single!
John Dahlbäck – one of dance music's most prolific, eclectic and respected producers – returns to North America this weekend for a month long jaunt through the United States and Canada. The tour coincides with the release of John's new single "Life (Diamonds In The Dark)" which is out February 25 through Big Beat/Atlantic.
Many dance fans will be familiar with John Dahlback's epic 2012 club anthem "Life" which was, among other accolades, Pete Tong's Essential New Tune as well as one of the standout tracks on Tiësto's "Club Life – Vol. 2 Miami." The track now gets a whole new vocal version from fellow Swede Agnes along with remixes from Feenixpawl, Lazy Rich and Lunde Bros.
"Life (Diamonds In The Dark)" and "Pressure" (forthcoming on Spinnin' Records) are the newest in a series of dance floor smashes that John Dahlbäck churns out like a hit making machine. John's constantly reaching the top of the charts with recent releases including "Pressure," "Don't Be Silent," "Take This Thing Back," "Every Breath," "Get Wild," "Panic," "Zeus" and "Comet," among others. In the fall 2012 John also released a free downtempo album under his Demure moniker that featured vocals from his sister.
Be on the look out for more new John Dahlbäck releases in the coming months and his full Miami Music Week schedule that already includes a show at Set Nightclub on March 20.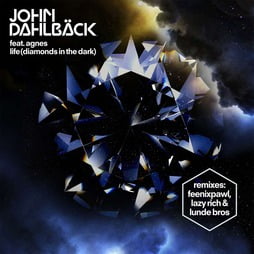 John Dahlbäck – "Life (Diamonds In The Dark"
February 25 (Beatport) / March 12 (iTunes, etc.)
Big Beat / Atlantic
JOHN Dahlbäck NORTH AMERICAN TOUR DATES
FEBRUARY 1 – UNIUN – TORONTO, ON
FEBRUARY 2 – THE MID – CHICAGO, IL
FEBRUARY 6 – SUPPERCLUB – LOS ANGELES, CA
FEBRUARY 7 – TIME SUPPERCLUB – MONTREAL, PQ
FEBRUARY 8 – THE ESTATE – BOSTON, MA
FEBRUARY 9 – MANSION – MIAMI, FL
FEBRUARY 15 – KINGDOM – AUSTIN, TX
FEBRUARY 16 – LAST SUPPER CLUB – SEATTLE, WA
FEBRUARY 17 – SHAW CONFERENCE CENTER – EDMONTON, AB
FEBRUARY 19 – NETT
FEBRUARY 21 – COLLISEUM – TALLAHASSEE, FL
FEBRUARY 22 – LIT ULTRABAR – PHILADELPHIA, PA
FEBRUARY 23 – XS – LAS VEGAS, NV
MARCH 18 – XS – LAS VEGAS, NV
MARCH 20 – SET NIGHTCLUB – MIAMI, FL