Interview with Ric the promoter of Bitch Events
Many people start their promoter career during their student days, aspiring to create the perfect party for their friends, dreaming of making millions, being the most popular person in town and generally living the highlife. Does it really work like that though?
We caught up with Ric from Bitch Events just before they celebrate their 6th Birthday, he's made it work, could you?
Firstly Ric, can you let our readers know how you got into running your own night? Was it something you always wanted to do?
I went to my first club when I was 15 and instantly fell in love with the community: it wasn't until I went to a Gatecrasher festival at Lotherton Hall in Leeds in 1999 that my eyes were opened up to the organisational side of it. I remember being in awe about how the whole thing was put together, from the coaches bringing people in, to the huge arenas with all the production and the DJs. I knew this was something I wanted to do.
Clubbing has always been my passion and I'm lucky that my group of friends all felt the same so we all kind of went that way. One of our group started the Trance brand Goodgreef (which celebrates its 12th Birthday this year) another of my friends succeeded as a huge international DJ on the hard dance scene, so I was always surrounded by the industry which meant the natural progression to working within it. It got to the point where I had worked with other brands but really wanted to progress to have my own night and that's when it was decided, we saw a gap in the market for a Sunday event in Manchester and Bitch was born!
How did you come up with the name?
A lot of people ask me this and I don't really have a definitive answer. It was just one of those moments I guess; we banded about a few names and decided on 'Bitch'.  We knew it had to be catchy, not too wordy, something that could work with a logo, something that stood out. And the word 'Bitch' certainly does that!
When it came to branding the event, all the artwork, where did you turn to and who helped you come up with the concept?
Bitch was all about attitude and making a statement. We turned to Martin Fewell to design the logo and he came back with the perfect one. It was all sharp corners and bright colours and this was just what we wanted, a new night needs to jump out from the crowd.
At the beginning Bitch was all about very colourful flyers with loads of images but as we grew up as people and the night grew on so did our tastes and I think the artwork really shows that.  Often for a night to survive it needs to evolve with your punters, just like yourselves.
If you look at a flyer from the early days to one now you will see how it's a more simplistic but effective approach to the branding.  To come up with the concepts we sit down look at the DJs, look at the theme and our designer comes back with some ideas and we go from there.
Although all flyers look different they all fit in with our brand identity so when someone sees our artwork from afar it's instantly recognisable. A key to making sure we stay in the minds of our catchment.
Do you think having great artwork is important for an event brand?
I think it's one of the most important things for a club night. Bad artwork is a killer; it's basically your night's C.V. and can be the difference between a good or bad turn out in my eyes.
Of course there are other factors but if the artwork out there doesn't catch people's attention they will not stop to pick it up or be interested in what you are trying to offer.  Before the days of Facebook good artwork was the key to getting people interested in the night as they would see your flyer, poster and see what you are doing.
Since the social media revolution I still think that the basic idea is the same, people get invited to hundreds of events every day, and there needs to be a really good first impression when looking at the event to make them delve further in to it and I think artwork is the key to that.
If it looks like you've knocked it up in Paint, it's littered with mistakes people are likely to think, "Well if they can't get that right, what else aren't they going to have a clue about?"
What about printing costs, do you think sometimes promoters forget how expensive this can be?
Massively! Having lots of posters and flyers is a huge cost to a night. The difference between an A5 and an A6 flyer is considerable, some nights go with A6 designs but I feel because our artwork designs are so good they deserve to have a bigger flyer so they stand out more. There's also nothing worse than a bad quality flyer on really thin paper, it just doesn't send a good message out for your night, we do our printing on high quality paper which again is more expensive.  It's all about being more strategic with the material you need and ordering the right amount of flyers and posters.
Do you think flyers are still a valid part of promoting a night?
I do, although a lot of promotion is done online, I always use the old school methods of hand to hand shop drops as it helps us keep in with our local area and also exit flyering for clubs. I still think that the idea of giving someone a flyer when they leave the club which they stuff in their pocket and find the next day is something that should live on, I know when I was younger I always wanted a flyer pack when I left the clubs to see what was on, where my favourite DJs were playing and what nights I was going to next. I think flyers will always have that special link with a clubber, we just have to be cleverer with them now.
How do you use Facebook and Twitter to support your marketing?
This is something I try and learn and better myself at day in and day out. It's such an important part of what we do and is still quite new and always changing, so we are always looking to learn new methods to better ourselves on the social media platform.
We have a strong fan base across Facebook and Twitter; we try and utilise these to the best of our ability. We try and give our fans and followers a community that they are involved in not just a place where we are selling all things 'Bitch'. We find this keeps our customers interested so that when we do want to promote something they actually stand up and pay attention and don't think 'here's another thing they're pushing on us!'.
We regularly update both Facebook and Twitter from a personal angle even though it's a brand's page, I think this helps as people feel they are interacting with a person and not just a machine.
It's probably more important than ever now for the events team to be connecting with the customers, you need to make them feel like they are appreciated, not just a number on a door clicker, without them your night would be nothing.
With the popularity of social media constantly on the up, how different is it promoting a gig now to what it was 6 years ago?
It's a whole different ball game now! Some promoters have left behind the old methods and just concentrate on the new ways, but we have embraced both and continued to promote the old way and the new way. Now we have to budget for Facebook advertising, promotional videos, post gig videos as well as the flyers and posters and other on the ground material we use when promoting the gigs.
We also employ a PR company to help push our brand further and wider. Since bringing them on board and building our night month on month we've toured the country and internationally. We've also just launched a record label. To do all this industry folk and the general public need to know about us, respect us and want to hear more about us. This all takes time and hard work, from not just Bitch but all the people around Bitch.
How do you decide on your line ups?
You have to love the music side of it and I'm lucky I do. I constantly listen to DJ mixes and keep my ear to the ground for the new and hot tunes that the big DJs are playing and look at putting together big acts with up and coming names.
We usually go with one headline name and then shape our supporting artist and residents around that. It's important that all DJs styles fit together so the night flows, as a night should. Your punters should feel like they've been on a full force journey by the time they leave your venue, not a bumpy ride over unchartered ground!
Do you set yourself a budget for each event?
Of course, the first thing we do is a costing sheet for each event to see how much what we want to do is going to cost, then look at the amount of people we are expecting to get in and then see what we can keep in the budget and what we can't. This is key to not getting carried away, especially when you first start out. It would be the kiss of death to your event if you get into unmanageable debt straight away.
Remember most nights don't make money on their first few events, you're lucky if you break even!
What other things do you do to help secure the success of the event?
The team around me is the most important thing. I have a very strong promotional team that work with me month in and month out, that keep things ticking. My designer is always a month ahead of what I need, so I always have things to use when I want them plus the resident DJs I have onboard live and breathe Bitch and this drives a passion out for others to come and party with us.
It's about MUCH more than just me; promoters that don't have a good back up around them often don't last very long. Spend time on creating your core team that you can rely on.
Do you think you can ever guarantee a sell out?
You can never guarantee a sell out I don't think, there are too many factors that come in to play now with the way the country is, in terms of the recession and the fact people can't afford to go out as much as they did, they now pick and choose what they want.
You could have the most amazing lineup one week but someone else has the most amazing lineup somewhere else that they want to go to, so it's hard to say you can guarantee a sell out today.
You can go some way into making sure you have safe bets, knowing what your punters want is the key to this. Find out what music they REALLY love, who are their favourite DJs, what door price they are willing to pay, is Friday or Saturday their best night to go out… Running regular questionnaires with your crowds is a vital part in knowing what they want.
Never be arrogant in thinking they're bound to always want what you do, reach out.
Six years in, do you still enjoy it as much as you did in the beginning?
Yes I do and that's why I continue to do it. It's a lot more pressure now as we have grown bigger, so has the responsibility that goes with it. We have staff to pay who rely on us for money to live and we have to work harder to push the brand bigger and better year on year, but from what has happened in the last couple of years I know that there are exciting times ahead for us which makes all the hard work and sleepless nights worth it!
It definitely isn't the easy, social, just having fun with your mates, career that many people think it might be though.
What have you learnt along the way? What advice would you offer someone just starting out?
I have learnt too much to document it down, it's been the biggest life lesson ever, but I'd say make sure you have the time to put in to the night because at first it's 24 hours a day and it has to be your main focus. Unless you can give it that much attention I wouldn't suggest trying to start your own night.
Make sure you do your homework, talk to other local promoters, watch what they do online, watch where music trends are going, speak to your mates, read your local magazines, listen to your local radio stations.
Being a successful promoter is about being a geek when it comes to the music of the moment, you need to know it all!
How much capital do you need to realistically put on your first night?
Well that depends how good you are at negotiating deals! A lot of things can be done at cheap costs if you know the right places to get them done but all depends on what kind of night you want to go for, if it's just a local night with no headline acts then there is considerably less needed. To book international artists for a night is going to cost more.
Venue costs are usually your biggest outlay to start with; try not to get ahead of yourself on this one. Start small and build your night, diving in at the deep end will only lead to a drowning.
What are all the costs you need to consider?
Everything from venue hire to staff, DJs (if through an agency there will be booking fees and VAT!), dancers, print, design, advertising, distribution, travel costs, décor, then you need to think about all the calls you'll need to make, emails to send, will your broadband cope with the big artwork files?
Also, big tip, go ease on the guest lists to start with… remember the bottom line, you're a business.
And six years from now where do you see your brand and events as a whole?
If we can continue to grow at the pace we have done for the past few years then who knows. I think I would like to keep the European events going on and have regular nights across Ibiza, Croatia and other destinations. I would like to see a growth in the label and have compilation albums out also merchandise to sell for the brand, basically just a full package!
'What are the downsides of promoting?'
As well as all the good points to promoting there are also a load of bad ones. It's lots of late nights, you have to deal with people who seem to be your best friend but will shaft you at any given opportunity, it's a huge strain on a relationship and it's stress like I've never experienced before. Once the night grows bigger and it's more than just a one off thing the work that needs to go in to a night is insane. As long as you are aware of all this then it won't be a shock!
Bitch celebrate their 6th Birthday at the end of the month, if you're in or around Manchester that weekend (29th September) why don't you go along and see how they do it!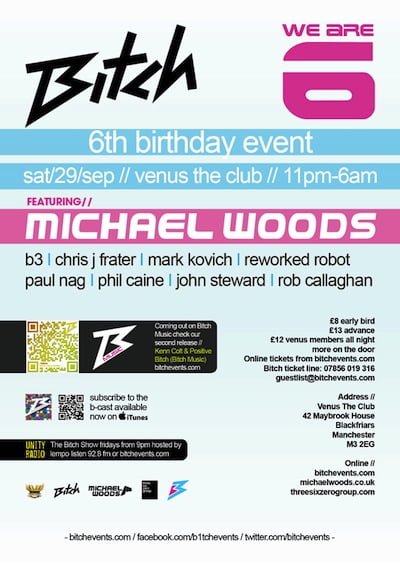 OR They're at Mint Festival with their very own tent! Choices choices!