Exclusive Interview: Judge Jules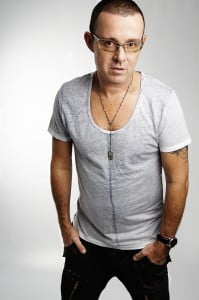 We can call him one of the pioneers in Electronic Dance Music. Judge Jules, the British DJ launched his career in 1987 and played al over our planet ever since. After 12 succesful editions of Judgement Sundays in Ibiza he is still not exhausted! This years edition has already started and better than before!
This year another big name in EDM is joining him to help Judgement sundays to a higher level. Dutchman Ferry Corsten is bringing his legendary events concept Full on Ferry to Club Eden! And joining him a lot of other big names like Aly & Fila, Sied Van Riel, John O'Callaghan, Shogun, Giuseppe Ottaviani and many more.
We are really glad Judge Jules found some time in his busy schedule to answer a few of our questions:
How are you doing?

A little tired, having not long returned from playing Global Gathering in Russia but I'm very well thank you.
You recently kicked of the 13th season of Judgement Sundays. What can we expect of this 13th season?

This year is a very exciting one for us because we've teamed up with Ferry Corsten's Full on Ferry night for a series of exclusive parties. Some of the guests joining us over these events include Aly & Fila, Giuseppe Ottaviani, Robbie Rivera, Bassjackers and hardstyle legends Showtek. As well the FOF parties, we also have other highlights such as Eddie Halliwell, John O'Callaghan, Simon Patterson, Michael Woods, Yasmin and countless others. I think this is one of the strongest we've had in a while and as ever you can expect all the usual Judgement theatrics and entertainment.
After 12 seasons of Judgement Sundays, What is the most memorable moment you will never forget?
It's very difficult to condense 12 years worth of memories into one single moment but if I had to pick one then it would have to be the closing party. After a long and busy season, it's the one time of the year when all the workers, djs and clubbers come together to say goodbye to the season for the last time until the following summer. These events are always something special!
Judgement Sundays teamed up with Ferry Corsten's "Full on Ferry" events. How did this collaboration came about?
Ferry has been a resident for Judgement for some years now and played for us for around 9 of the 12 years, plus he has a great connection with the clubbers who really adore him. Both of us were keen to do something special this summer and it felt natural to combine our two nights and do a series of joint parties. The line-ups we have created for these events looking fantastic and seem to be a big favourite with the dancefloor.
What can we expect from the collaboration with "Full on Ferry"?
Well for those that don't already know, Ferry performs some exclusive b2b sets with the guests at his own Full on Ferry events – these sets always go down really well with the crowds at these events. Ferry and I actually played together at his recent Full on Ferry New Years Eve event in London and the roof nearly tore off! So you can expect much of the same over this season in Ibiza at these FOF/JS events.
The line-up of this year contains a lot of big names. To what extent are you involved in compiling this list?
I'm 100% involved. Myself, and the Judgement team, work all year round searching for new DJs and discussing with the more established names for future bookings. It's a long process and one we take a lot of pride in doing properly because for us the music policy is incredibly important. We listen to what people want and also what is hot in the scene and try to factor this into our final line up plans. It is for this reason that I welcome people to contact me via email at jules@judgejules.net with any suggestions they might have for future line ups.
Did you ever expected Judgement Sundays would become so successful?
Of course I hoped it would be successful but if somebody would have told me we'd still be here 13 seasons later I would have laughed myself off the chair. I am truly proud of what we've achieved with the night after all these years. It's a testament to the hard work of all the people involved and the fantastic support the crowds have given us. I am incredibly excited about the future and what plans we have moving forward.
After all those years you must have seen a lot of Ibiza. How would you describe the atmosphere on Ibiza during the summer?
Simply put its "wild". Ibiza has a unique vibe about it that you won't find anywhere else in the world. It brings the best out of dancefloors and in turn the DJs.  From the sunsets to the big room clubs, the atmosphere of Ibiza is something really captivating and is part of what continually draws people back to the island. It is also worth mentioning that there is a certain spiritual tranquility about Ibiza which needs to be experienced outside the summer season too, because it is equally beautiful and I recommend everyone who comes to the island to also get a taste of the island in the winter months as well.
How do you prepare your sets? Are there any rituals you go through?
I'm afraid not. I'll have the occasional pre-set shot of vodka but otherwise it is just an eagerness to get on the decks. In terms of preparation, I never pre plan my sets but instead I prefer to feed of the crowd.
How did you earn the nickname Judge Jules?
It is one that came about during the illegal rave days. I studied law during my student years and so was always pushed to the front whenever the police came to break up the party and it has stuck with me ever since.
You presented your last show on Radio 1 on 30 March this year. Can you tell us why the show had to stop?
After 14 years at the station, it was a good time for me to depart the BBC. It meant I can get Friday night gigs in a further range of places, such as international events where I wouldn't have been able to go before whilst doing the show. That said I had a great time at the station and loved every moment of my time there. However, I had a long and fantastic tenure with my own weekly show and I feel it was right timing for everybody to bring somebody new in. On a side note, I still continue to host my weekly syndicated show 'The Global Warm Up' which is on a number of different FM networks and also available online.
If you could play at any place in the world, where would it be?
I've still not played Glastonbury and being British I fully appreciate how much of an institution it is within our festival scene, so that is one I'd love to play.