Dada Life invites you to celebrate New Years Eve in Dada Land!
BROOOOOOKLYN! Get your ass out of the club and celebrate New Years Eve 2013 with the kings of party, Dada Life.
This celebration comes with a lot of rules…The Rules Of Dada, that is. First, this NYE celebration could not be held in a club. The city's popular venues had too many restrictions for a party of epic motherf**king proportions and frankly they're not Dada enough. So The Boss got down to work and found a special warehouse space in Brooklyn that will be transformed into the "Dada Life Compound."
Think of the "Dada Life Compound" as a cross between Santa's Workshop, a butcher and the Playboy Mansion's infamous Grotto. You won't know quite what's happening around you…but you'll love every moment of it. Arrive beautiful and leave ugly…champagne is your cologne/perfume of choice.
Tickets for Dada Land NYE go on sale today, November 27, at noon EST through Wantickets.com and AreaEvent.com. A three hour open bar + midnight champagne toast is available as an upgrade to standard GA tickets and for guest 21+ only. Special VIP tables will also be available.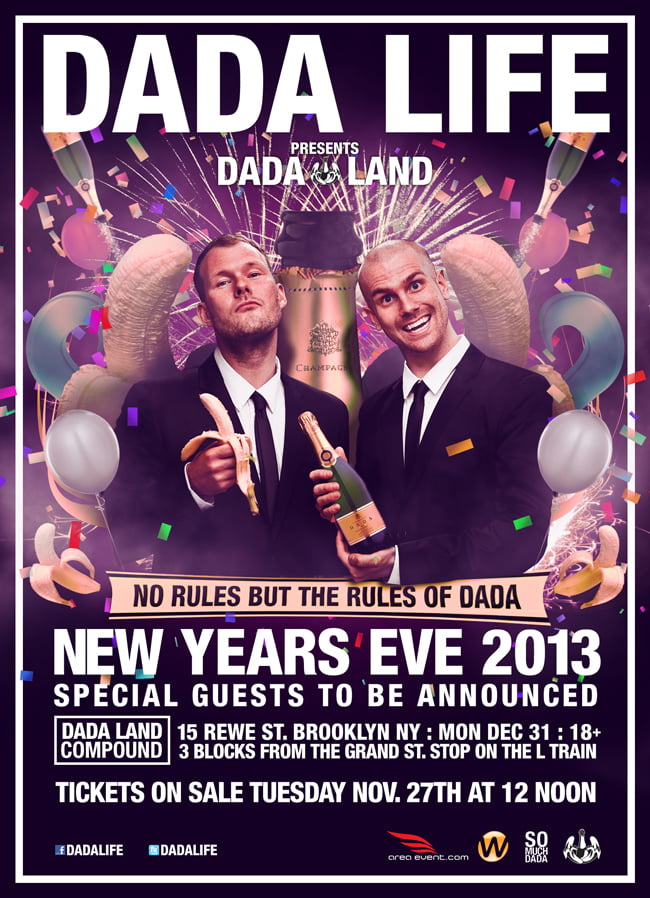 Dada Land – New Years Eve 2013
Featuring Dada Life + special guests Deniz Koyu and Bassjackers
Monday, December 31, 2012
The Dada Life Compound
15 Rewe Street
East Williamsburg
Brooklyn, New York
Doors Open 8pm until 4am
AGE 18+
TICKETS available on Wantickets.com and AreaEvent.com
GA Tickets Range from $65 – 115
3 hour Open bar 9pm –12am + Champagne toast at Midnight available for 21+ Patrons (available as an upgrade to GA tickets)
VIP Table sections available (21+ Only)
Over the top production and plenty of surprises.