Bitch Events Turns Six in Style!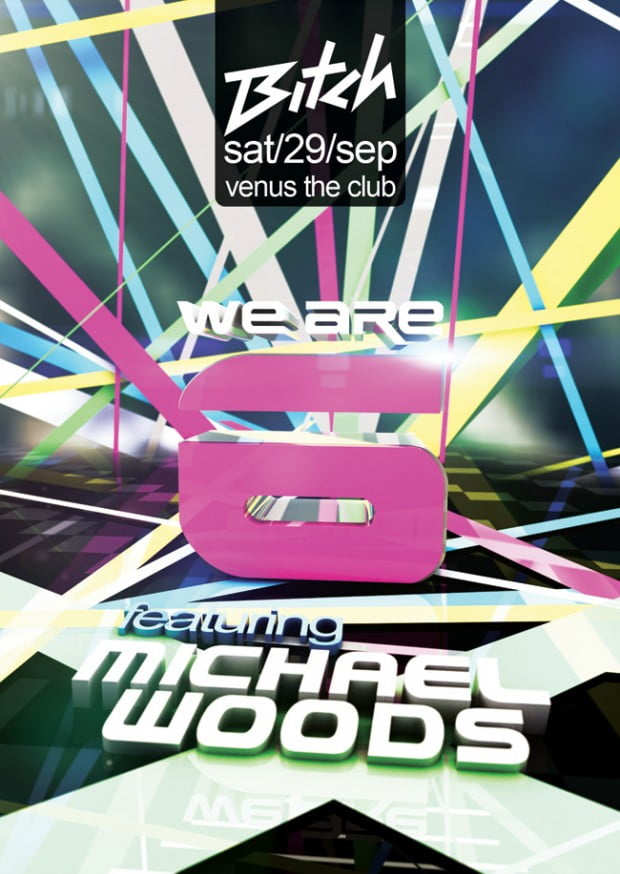 What an incredible year it's been for Bitch. One year ago the dance music powerhouse blew out five candles on their birthday cake and from then on the illustrious clubbing brand has had what must surely be their most sensational year to date! From the beaches of Croatia to the green fields of Leeds, Bitch has proven that wherever the brand goes, an unstoppable party is assured. The last twelve months have seen a library of world class DJs entertain the loyal crowds at Bitch's eminent parties. Hardwell, Nicky Romero, Gina Star, Danny Howard, Third Party, Kryder and Pixel Cheese are all among the vast line-up of guest that have helped Bitch on its voyage in the last year. With an ever-expanding network of many of the most talked about dance music parties of the year, wherever the show may go, Bitch always comes home to Manchester with a bang. Their sixth birthday celebrations will be no different!
At Venus, the home of the Bitch events movement, the monthly nights have become famous for their unrivalled party atmosphere and a musical quality control that is tough to match. Saturday 29th September will see a double dose of dance music action as the hugely anticipated Mint Festival invite Bitch to host their very own 'Bitch Arena'. This astonishing arena will be packed to the rafters with world dominating DJs including 'Fire It Up' boss man and technical wizard – EDDIE HALLWELL. Backing Eddie to offer Mint Festival a full strength shot of Bitch will be the iconic Michael Woods, BBC Radio 1's Danny Howard, Britain's answer to the Swedish House Mafia – Third Party, CDJ magician D.O.D, the cryptic progressive mastermind Kryder, Digital's in house superstar Felix Leiter, B3 and much more. With the likes of System & Flux, Loco Disco, Jungle Jam, Bigger Than Barry and Black Light providing additional arenas, we can be sure of an A-Z of electronic music from a team of some of the most reliable party brands in the game. Jamie Jones, Seth Troxler, Reboot, Soul Clap, Wolf & Lamb, Adam Beyer, Speedy J, Sandwell District, Surgeon, Ben Klock, Marky, Joker, Hype & IC3, Drumsound & Bassline Smith and Adam F are just a handful of acts from the mammoth lineup that will fill the five big top arenas readied for Mint Festival.
As if this irresistible lineup wasn't enough, Bitch will be straight back on the road with a very special guest to head home to Venus to unwrap one more present! Bringing the spirit of Mint Festival back to the more familiar surroundings at Venus is the man who blew open the roof at his last appearance at Bitch as he guided Manchester into 2012 on new year's day in his typically astonishing style. Michael's non-stop work rate and unquestionable talents have cemented him at the absolute summit of the dance music world. His reputation as a headline booking for huge scale events across the globe is confirmation of his fully deserved status as a truly global superstar DJ. The after party will carry the party energy back from Mint Festival as Venus will be prepped with a full scale club production including co2 and confetti to add to the birthday festivities. Backing up Michael at this celebratory event will be B3, Chris J Frater, Adrian Jones, Mark Kovich, Reworked Robot, Paul Nag, Phil Caine, Andy Clarke and Rob Callaghan who will all be adding fuel to the fire for what will no doubt be one of Bitch's biggest days of 2012. To get the full Bitch birthday experience a special package deal has been prepared. For just £50 you can secure your seat on a return coach from Manchester to Leeds and entry to Mint Festival included in the deal. As an extra special birthday treat you can also bag yourself a ticket for Michael Woods at Venus for just £10 (33% reduction), so for just £60 you can join the full Bitch birthday experience from start to finish! If you know Bitch, then you know they take parties seriously, so the sixth birthday celebrations are an essential date for your party calendar.
EVENT INFORMATION:
Date:
Saturday 29th Septmeber
11pm – 6am
Tickets:
£8 Early bird
£15 Advance ticket
MOTD
(Venus members £12 all night)
Line-Up:
MICHAEL WOODS
B3
CHRIS J FRATER
MARK KOVICH
ADRIAN JONES
REWORKED ROBOT
PAUL NAG
PHIL CAINE
ANDY CLARKE
ROB CALLAGHAN