Area Event announces expanded two-day Electric Adventure event
Following the huge success of October 2012's "Electric Adventure," Area Event and Six Flags Entertainment Corporation have announced that the first of its kind festival will expand to two days for this year's installment. "Electric Adventure 2013" will take place at Six Flags Great Adventure in Jackson, NJ on Saturday, August 3 and Sunday, August 4.
"Electric Adventure" is a fantasy land where Electronic Music meets an iconic amusement park for the most exciting and electrifying music festival experience in the world. During the day fans will find themselves riding roller coasters and the latest attractions of Six Flags Great Adventure alongside their favorite DJs, while dancing into the evening to the most cutting edge music and live production from Area Event. In 2012 Dada Life famously took on the legendary Kingda Ka rollercoaster with their fans. There's no telling what kinda ride you'll be able to go on this year when you see the lineup Electric Adventure has in store!
As a sign of its commitment to dance music and the growth of "Electric Adventure," Six Flags Entertainment Corporation has not only expanded the festival to two days, but also for the first time in history, will keep the park open after hours on consecutive nights solely for "Electric Adventure" attendees. This means that festivalgoers will have the music and the park all to themselves. Additionally, Six Flags Great Adventure will plug into "Electric Adventure" meaning that dance music will be pumped throughout the entire amusement park!
Keep a look out for the full "Electric Adventure" talent announcement in the coming weeks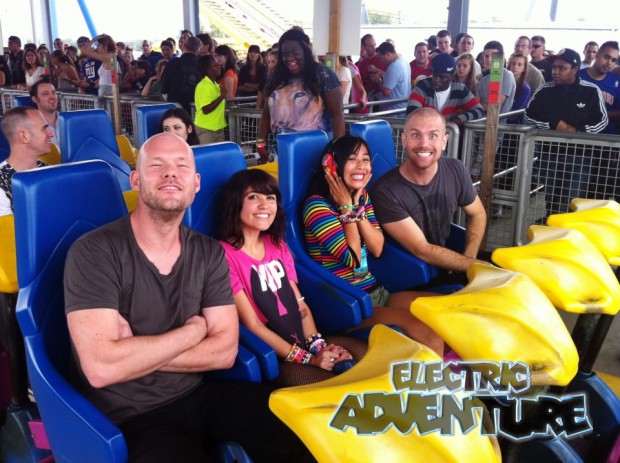 Electric Adventure
Saturday, August 3 and Sunday, August 4, 2013
Six Flags Great Adventure Theme Park

1 Six Flags Blvd Jackson, NJ 08527
Park Hours: 10am-10PM
Event Hours: 4pm – midnight (Saturday) / 4pm – 11pm (Sunday)
All ages
Talent to be announced soon
Buy tickets on Monday, April 22 at 12PM EST from http://ea13.wantickets.com/Events/125640/Electric-Adventure/
All rides will be open through the duration of Electric Adventure