A chance to win a day in the studio with The Squatters!
On the 3rd November Dirty Smart are throwing a party to launch their next T-Shirt range. Normally at these kinds of events you'd see some sort of catwalk show, lots of tiny canopies and maybe a glass of bubbly. It'd be hosted at a pretentious bar / club and fail in the atmosphere stakes, but with the help of The Squatters, Dirty Smart do things differently…
The Saturday in question will see them taking over BANK's store in the Trafford Centre, Manchester!
There's going to be live performances from Dirty Smart favourites The Squatters, Micky Slim and Alex Schmitz plus a special one off performance from Mr Dirty Smart & Bongo Sean.
There will be a competition running throughout Saturday November 3rd for you to win a day at the What's Your Status? Studio with The Squatters themselves. A once in a lifetime opportunity!
Not only this but a crew from the event 'Fresh Fridays' are going to be onsite giving away loads of free stuff and everyone loves free stuff! There's also going to be a slush puppy machine so you can chill your bean when it all gets a bit too much.
On top of that, Data Transmission are going to be streaming the whole thing through their site LIVE to the world!
Get down to the Trafford Centre in Manchester from 12pm on the 3rd November and let's make history…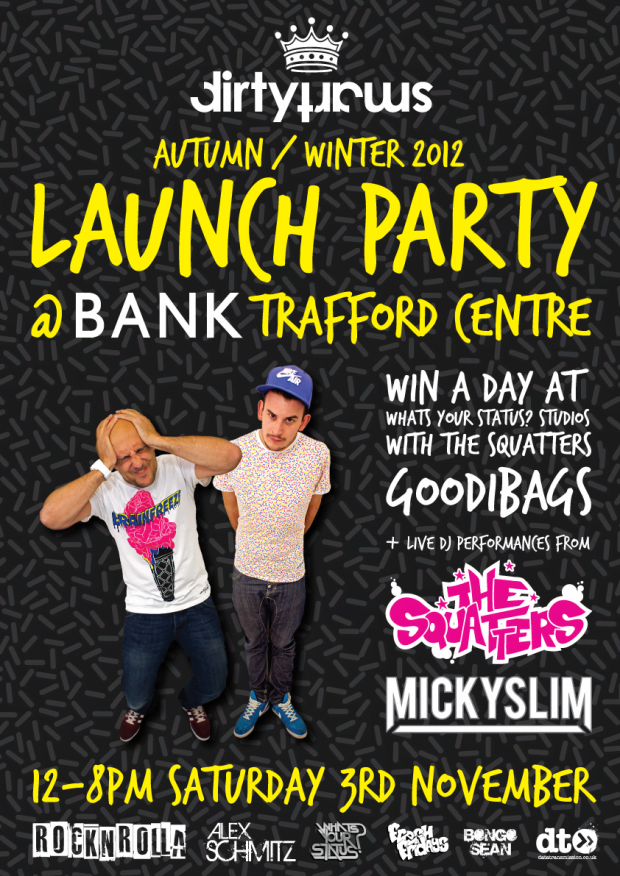 Lineup:
12pm – 2pm : Mr Dirty Smart & Bongo Sean
2pm – 4pm : Alex Schmitz
4pm – 6pm : Micky Slim
6pm – 8pm : The Squatters
For more information on The Squatters:
www.the-squatters.com